Quinoa and cannellini bean burgers. Place the beans, quinoa, and bread crumbs in a large mixing bowl. Add the parsley and cooled shallot mixture and set the pan aside (but don't cleanit—you'll use this later to fry the patties). Combine everything with your hands, mashing the beans so that the mixture turns into a paste. (If it's feeling a little wet, add more bread crumbs.) Rinse quinoa three to four times.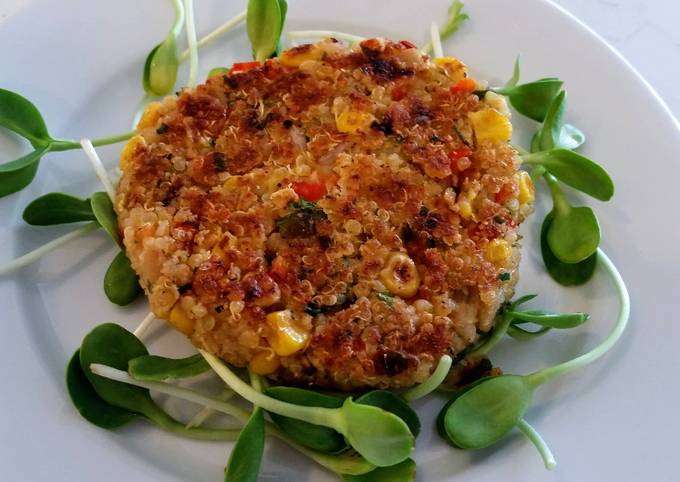 Shape into four patties and place on a lined baking sheet with a slice of cheese on top of each one. Get the full printable recipe below! Once the quinoa is done, add the mashed beans, flax meal, and lemon, mix well. You can cook Quinoa and cannellini bean burgers using 12 ingredients and 8 steps. Here is how you cook that.
Ingredients of Quinoa and cannellini bean burgers
Prepare 1 can of drained rinsed cannellini beans.
You need 2 cups of cooked quinoa.
Prepare 1 tsp of lemon zest plus juice of half lemon.
Prepare 1/2 cup of corn (canned or thawed frozen).
You need 1/4 cup of finely diced red bell pepper.
You need 1 of finely minced shallot.
You need 2 tablespoons of minced flat leaf parsley.
You need 1/4 teaspoon of dried herb (thyme, marjoram, dill etc).
It's 1/4 teaspoon of smoked paprika.
It's 2 tablespoons of Just Egg (egg substitute) or 1 small beaten egg.
Prepare 2-3 tablespoons of panko bread crumbs.
You need of Salt and pepper to taste *start with 1/2 teaspoon salt.
Divide and roll the mixture in a ball, gently but tightly packing them well. Then mix the beans, quinoa, panko and red peppers in a large bowl. Then add in the eggs and spices. Pro tip: you need to refrigerate the patties for an hour before sauteing so plan for that.
Quinoa and cannellini bean burgers instructions
In a large bowl mash the beans (I used potato masher) till all smashed then add all the ingredients and mix thoroughly. It should be able to form a patty now, if not add a little more panko..
Cover mixture and put in fridge for at least 30 minutes.
Using a half cup measuring cup or ring mold,press mixture in to form patties, you should get 6 to 8 from this batch..
You can put patties on wax paper and refrigerate up to 3 days at this point..
Preheat a nonstick skillet to medium/medium high heat and add a tablespoon of high smoke point oil like coconut or avocado..
Gently place the desired number of burgers in the pan. Cook for two minutes.
Carefully flip burger and press with back of spatula with even pressure until burger is about 1/2 thick. Cook 4 to 5 minutes.
Carefully turn burger again and continue cooking for another 4 minutes until browned on both sides and cooked thru..
Add the egg, garlic powder, paprika, chili powder, cumin, and pepper, stirring well to combine. Dice the remaining half of the whole avocado. Gently fold it and the quinoa into the bean mixture. Using your hands, form the bean mixture into five patties. Place the patties on the baking sheet.