Quinoa kale Salad. Remove cover and allow quinoa to cool completely. In a small bowl, combine the vinegar and a pinch of salt and freshly ground pepper. Drain excess water well. (Or do this in a big bowl) Place in a saucepan with water.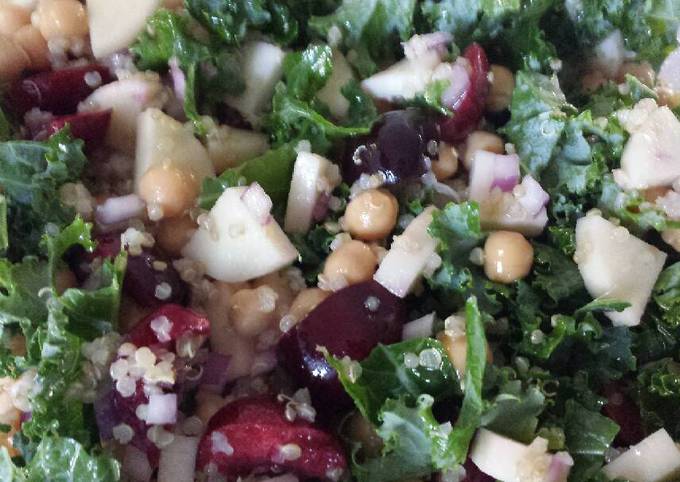 Refrigerate before serving Toss salad ingredients. Massage the kale and prep the carrots, red pepper, cucumber, zucchini, and red onion. Once the quinoa is ready, add the kale, bell pepper, carrots, onion, and cucumber with the quinoa. You can have Quinoa kale Salad using 10 ingredients and 2 steps. Here is how you achieve that.
Ingredients of Quinoa kale Salad
You need 1 cup of quinoa.
Prepare 2 cups of chicken stock.
Prepare 2 cups of kale.
It's 1 cup of red onions diced.
You need 1 cup of pitted cherries sliced lengthwise.
You need 1 can of Palm hearts cut into small peices.
It's 3 tbsp of olive oil.
You need 3 tbsp of fresh lemon juice.
It's to taste of salt and pepper.
Prepare of I can of chicken peas drained.
Add a little salt, lemon pepper and big squeeze of lemon, and toss well to combine. Serve warm, at room temperature or chilled. First rinse and drain your quinoa using a mesh strainer or sieve. Bring a small pot to medium heat and lightly toast the quinoa to remove any excess water, stirring often.
Quinoa kale Salad instructions
Bring chicken stock to a boil. Add quinoa, cover pot with a lid and simmer for 25 minutes. Set aside to cool..
Add all ingredients in a bowl with cooled quinoa. Mix and enjoy..
This step is optional but really adds to the nuttiness and fluff factor of the quinoa! Next add your water, set burner to high, and bring to a boil. Add the chopped kale to the bowl with the dressing. Cook quinoa according to directions on package and cool completely. Whisk together all of the dressing ingredients in a jar or bowl.