Kicking Avocado Tomato And Quinoa Salad. Combine tomatoes, avocados, celery, green onions, cooked quinoa, and cilantro for salad in a bowl. Mix lemon juice, agave, soy sauce, salt, and pepper together in a small bowl. Pour over salad and toss to coat.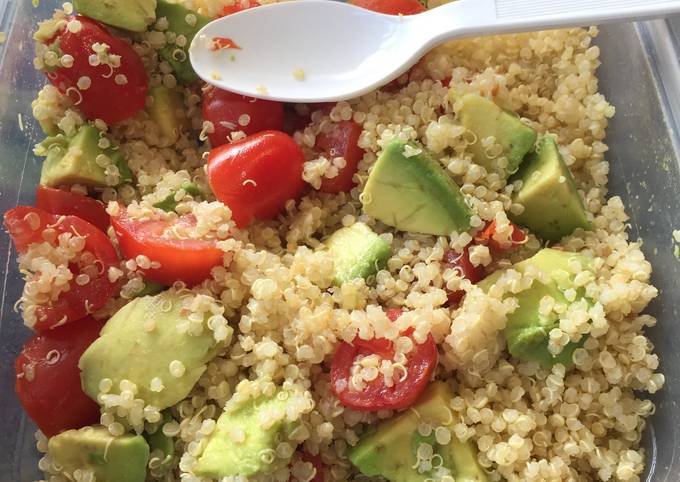 Toss cooled quinoa with corn, tomatoes and juice, shallots, herbs, lime juice and zest, olive oil, and salt. Once cool, it's tossed with crisp fresh corn, juicy tomatoes, jalapeños, creamy avocado, and fresh lime. You can make it a day ahead of time; just be sure to add the avocado at the last minute so it doesn't discolor. You can have Kicking Avocado Tomato And Quinoa Salad using 7 ingredients and 3 steps. Here is how you achieve that.
Ingredients of Kicking Avocado Tomato And Quinoa Salad
It's 3/4 cup of Quinoa, any kind.
It's 8 of Grape tomatoes, diced.
It's 1/2 of Avocado, diced.
You need 1 tsp of Light olive oil.
It's 2 tsp of Lime juice, or to taste.
You need 1/2 tsp of Onion powder, or to taste.
It's 1/4 tsp of Sea salt, or to taste.
You may also like Black Bean Salad with Corn, Avocado & Lime Vinaigrette Black Bean and Shrimp Salad with Corn & Pickled Onions Spoon the cooked quinoa to a heat safe mixing bowl and place in the refrigerator to cool. For the corn: Bring a large pot of water to a rolling boil. Rinse with cold water until cool. Once cooled, cut corn kernels off cobs and place the kernels in a small bowl.
Kicking Avocado Tomato And Quinoa Salad step by step
Mix all ingredients on a bowl..
Serve cold (or warm of preferred).
Feel free to add spices of your choosing to the dish.
In a large bowl, combine cooked quinoa, black beans, corn, tomato, red onion, and pickled jalapeño. Spray a baking sheet with olive oil and add tortilla strips. Sprinkle with salt and pepper if desired. Cook the quinoa according to the package directions. Allow to cool in the refrigerator until about room temperature.