Yummy Fruity Quinoa Porridge 253 cals if recipe followed. Heat a saucepan over medium heat and measure in the quinoa. Pour in the almond milk, water and vanilla and stir in the brown sugar and salt. To a saucepan, add water and rinsed quinoa and bring to a boil.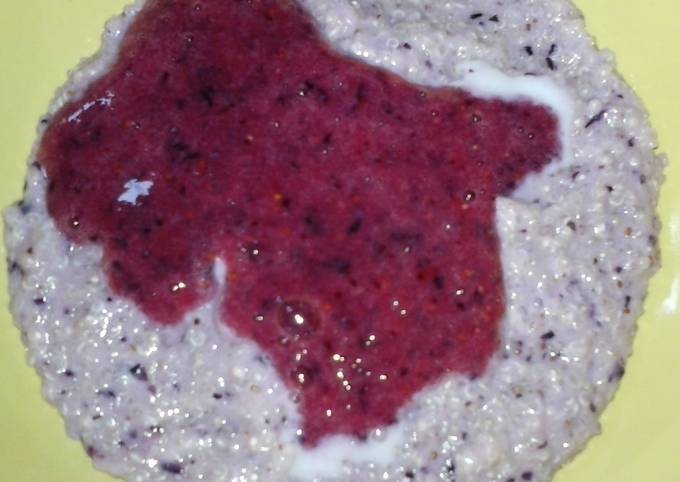 Stir in milk, water, cinnamon, nutmeg, ginger and salt. You can add a bit of fresh fruit too if you like. If you don't want to add the milk, just enjoy it as trail mix. You can have Yummy Fruity Quinoa Porridge 253 cals if recipe followed using 6 ingredients and 6 steps. Here is how you achieve it.
Ingredients of Yummy Fruity Quinoa Porridge 253 cals if recipe followed
You need 50 grams of Dried Quinoa.
Prepare 250 ml of Alpro unsweetened almond milk.
Prepare 1 pinch of salt.
It's 5 ml of Vanilla bean extract i used Asda 0 cals.
Prepare 5 grams of Strawberry jam i used aldi.
It's 100 grams of your choice berries. i used 62 strawberry 38 blueberry.
The peanut butter doesn't need to be completely mixed with the almond milk (doing so leaves swirls of peanut butter to enjoy the next day). Add oats and stir a few more times. Searching for recipes for a gluten-free diet can be challenging during the holidays. Here is a recipe for Irish soda bread that I have adapted over time for St.
Yummy Fruity Quinoa Porridge 253 cals if recipe followed instructions
In a dry pan cook the quinoa until toasted. 5+ minutes stirring frequently..
Meanwhile, mix the milk & vanilla extract, then add to the pan, add salt & bring to the boil. When boiled, turn heat down on low until thick. About 20+ minutes. Keep an eye on it stirring every now & then to prevent sticking. If the milk evaporates you can add more or add water. I added 200 ml then used the last 50ml toward the end..
Puree the fruit with the jam using a hand blender..
When Quinoa is thickened stir in the fruit puree leaving some aside..
Pour Quinoa into a bowl then if any milk left pour this on top, then add the rest of the puree..
Enjoy 💋.
The recipe calls for rice and tapioca flour instead of wheat and it still tastes yummy! Good if wrapped and left overnight, but I think it tastes great right out of the oven. Let's start from the super easy part! In a food processor add all the ingredients. Welcome to Sweet and Savory Meals!