Southwestern Sweet Potato with Quinoa Chili. Instructions Heat a large stockpot over medium heat and add the oil and onions. Add the broth, potatoes, quinoa, tomato paste, beans, diced tomatoes with chilis, cumin, paprika, chili powder and cinnamon, and stir together and bring to a boil. On a large baking sheet, toss together the cubed sweet potatoes, olive oil, salt, pepper and cumin and paprika.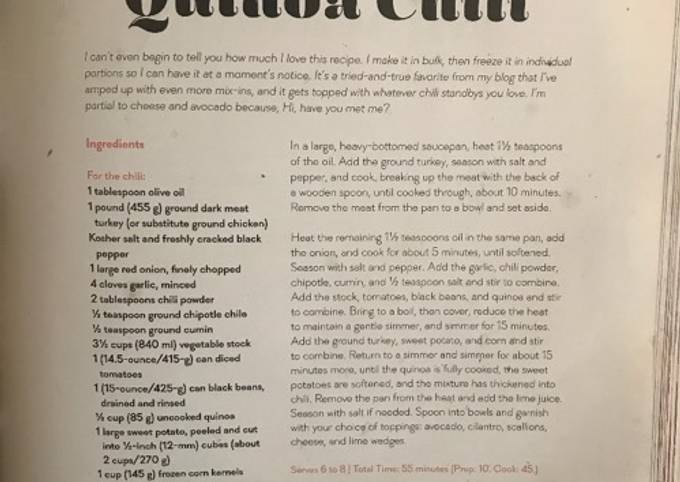 Stir in the chili powder, cumin, oregano, smoked paprika, salt, pepper and tomato paste. To make the bowl: Cook the quinoa according to the package directions. Toss the kale, olive oil, lime juice, and salt in a large bowl and then add small groupings of the avocados, quinoa, black beans, cheese, and sweetpotatoes. You can have Southwestern Sweet Potato with Quinoa Chili using 1 ingredients and 1 steps. Here is how you cook that.
Ingredients of Southwestern Sweet Potato with Quinoa Chili
It's 1 of .
Uncover the pot, drain off any excess water and fluff the quinoa with a fork. Serve topped with sour cream/plain yogurt, avocado, green onions, and shredded cheddar cheese. Slow Cooker Instructions: Add all ingredients to slow cooker. Increase the heat to medium high and bring to a simmer.
Southwestern Sweet Potato with Quinoa Chili step by step
1.
Cook, stirring occasionally, until the sweet. Heat a large heavy bottom pot with the oil over medium high heat. Add the garlic, chili powder, chipotle, cumin and salt and stir to combine. Add the stock, tomatoes, black beans and quinoa and bring the mixture to a boil. Stir everything together and cover it with a lid.