Warm Quinoa Salad. Bring water, quinoa, and kosher salt to a boil in a saucepan. Add black beans, corn, red bell pepper, red onion, and cilantro. Combine with a large spoon or wide spatula.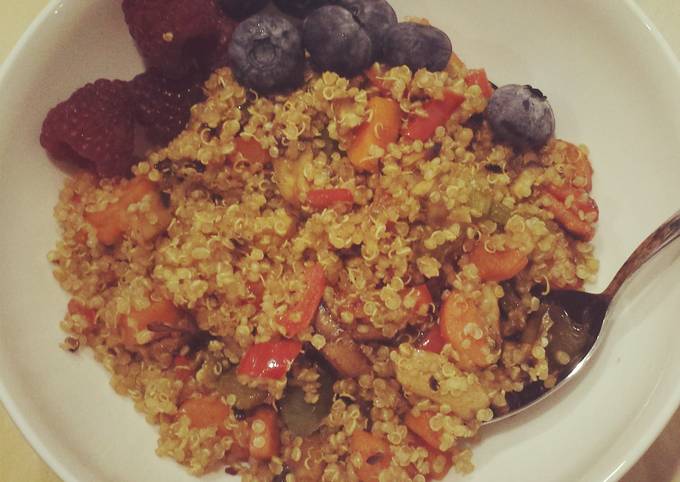 In another bowl, combine the feta, olive oil, onion, tomato, and lemon juice. Add salt and pepper to taste. Make the dressing: Whisk together the balsamic vinegar and extra virgin olive oil. You can cook Warm Quinoa Salad using 13 ingredients and 9 steps. Here is how you achieve that.
Ingredients of Warm Quinoa Salad
It's of Salad and dressing.
It's 1 of Quinoa.
Prepare 1 of Ground garlic.
Prepare 1 of Diced carrots.
It's 1 of Diced red peppers and green peppers.
It's 1 of Chopped mushrooms.
It's 1 of Diced tomatoes.
You need 1 dash of of oregano leaves.
It's 1 of Squeeze of lemon juice.
Prepare 1 of Salt and pepper for taste.
You need of For extra flavors.
You need 1 of Pesto.
You need 1 of Parmesean cheese.
Add the garlic powder, salt, and pepper. After thoroughly washing your kale, rip it into small pieces. Curried Quinoa Salad Quinoa is such a fantastic salad base—it's full of protein, it adds a nutty flavor, and it's the perfect vehicle to soak up any kind of dressing. Move the saucepan off of the heat and cover for five minutes.
Warm Quinoa Salad instructions
First, preheat your frying pan in medium heat..
I like to cook my quinoa by simmering them in medium temperature for about 15 mins..
Now we are going to prep! Dice, mince, chop all your veggies in similar sizing for your presentation..
If your pan fry is hot enough, add olive oil, and garlic. I like to throw in the hardest veggies in first, then the soft ones; so that the veggies can be cooked evenly..
Carrots, red and green peppers.. then mushrooms and tomatoes..
By this time your quinoa should be ready. Drain them and fry them with your vegetable!.
Add a dash of lemon juice, and oregano leaves; and salt and pepper to your likings..
If youd like a twist to your salad, please do add a bit of pesto and parmesan cheese!! Soo good!!.
Enjoy :).
In a large serving bowl, combine the chickpeas, cucumber, bell pepper, onion and parsley. In a small bowl, combine the olive oil, lemon juice, vinegar, garlic and salt. Whisk until blended, then set aside. Don't blend quite yet; set aside. In a large saucepan, combine quinoa, cumin and water; bring to a boil.