Spanish Quinoa and Wild rice. DIRECTIONS Depending on your preference, blend the canned or fresh tomatoes in a blender to remove chunks. Add well rinsed quinoa, water/tomato mixture and garlic to a sauce pan and heat to boiling. I wanted to try something healthier than plain rice.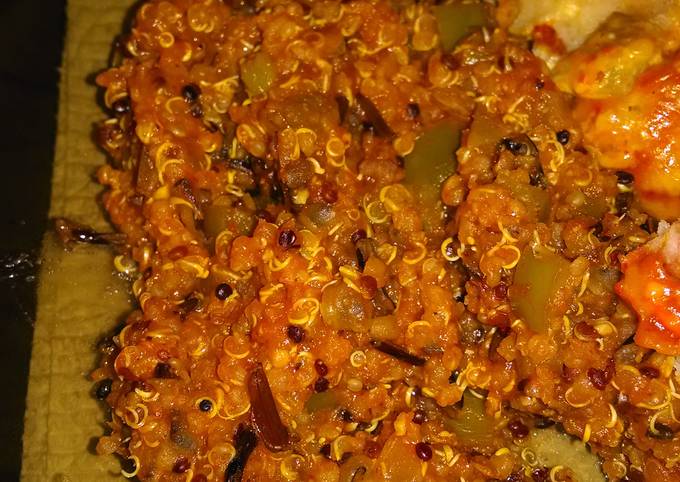 Add tomatoes, green chiles and chili powder and just heat until tomatoes are warm. Toss in quinoa and serve immediately. Stir in the tomato sauce and water, then season with the chili powder, garlic powder, and cumin. You can have Spanish Quinoa and Wild rice using 13 ingredients and 5 steps. Here is how you cook that.
Ingredients of Spanish Quinoa and Wild rice
Prepare 1 cup of Quinoa.
You need 1 cup of wild rice.
Prepare 4 cup of boiling water.
Prepare 2 tbsp of olive oil, extra virgin.
You need 1 can of 15 oz. Tomato Sauce.
Prepare 2 tbsp of minced garlic.
It's 1/2 each of onion, chopped small.
Prepare 1/2 each of Green pepper chopped small.
It's 1/4 cup of diced jalepeno, reserve juice.
Prepare 2 tbsp of chili powder.
It's 1 tbsp of garlic salt.
Prepare 1 tsp of garlic powder.
You need 1 dash of black pepper.
Add the onion and saute until tender and golden brown. Add the quinoa, salsa and broth and stir to combine. Add the liquid to the sauteed garlic and onions; bring to a boil. Stir in the quinoa, pepper, and salt.
Spanish Quinoa and Wild rice step by step
Bring 2 cups of water and 1 tablespoon olive oil to boil, add wild rice boil for 2 mins, reduce to simmer and cover for 45 mins. Drain remaining water..
In another pot heat 1 tablespoon olive oil and add minced garlic and quinoa, brown for 2 mins and add 2 cups water. Boil for 1 minute and reduce to simmer and cover for 15 mins or until most of water has absorbed.
Chop onion, green pepper and jalapeño small.
Add tomato sauce, green pepper,onion,jalepeno, spices, wild rice and 3 tablespoons jalapeño juice to quinoa. Mix well cover and simmer 10 mins or until most of liqued is absorbed..
Enjoy!.
Add chopped onion and green pepper. Saute until fragrant, then add remaining ingredients. Fluff with a fork and serve! Add the quinoa, broth, tomato sauce and paste, paprika, oregano, salt, and chickpeas to the pot. Heat oil in a large skillet pan over medium heat.