Marble Ricotta Cake. Combine all ingredients, except for the cocoa packet and the powdered sugar. Make the Marble cake according to directions on the box. Pour cake mix into the prepare pan.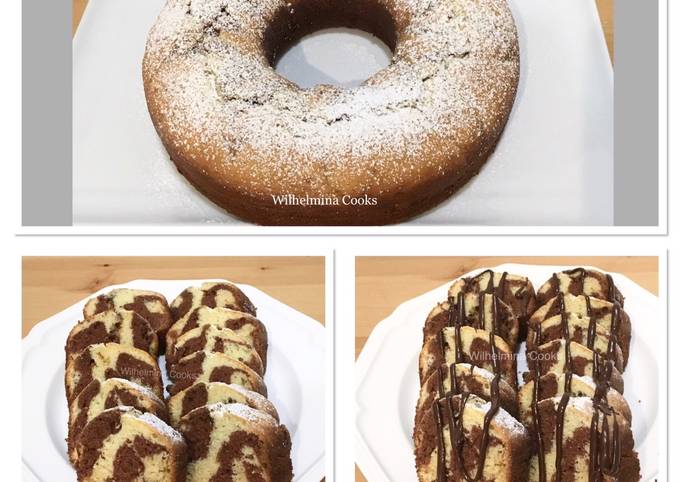 Combine the flour and the baking powder and add to the egg mixture. Line a deep baking pan with parchment paper. Prepare the cake according to the directions on the package. You can have Marble Ricotta Cake using 10 ingredients and 4 steps. Here is how you achieve it.
Ingredients of Marble Ricotta Cake
It's 372 g of All Purpose Flour.
Prepare 300 g of Granulated Sugar.
Prepare 255 g of Ricotta Cheese.
It's 175 g of Salted Butter (Room temperature).
It's 3 of Eggs.
Prepare 2 Tsp of Vanilla Extract.
Prepare 2 Tbsp of Cocoa Powder.
Prepare 2 Tbsp of Milk (Optional).
Prepare 1 Tsp of Baking Powder.
Prepare 1 Tsp of Baking Soda.
Drop by spoonfuls on top of uncooked cake. Mix ricotta, vanilla and sugar until well blended with hand mixer. Place by spoonfuls on top of batter as close together and evenly as possible. Gently scoop the filling onto the cake.
Marble Ricotta Cake step by step
Preheat oven to 350°F (175°C). Bring all the refrigerated ingredients to room temperature. For this recipe I used a 11 x 11x 3 inches non stick round cake pan. Using an electric mixer, mix the butter and sugar until it becomes smooth, creamy, and light in color. Add one egg at a time then put in the vanilla extract. Mix everything well until it becomes fluffy..
Make sure to scrape the sides of the mixing bowl with a rubber spatula once or twice to mix in all the batter. In a separate bowl, whisk together the flour, baking powder, and baking soda. Add the dry ingredients and the ricotta cheese alternatively into the batter in the mixer. Ladling in large spoons of each, starting and finishing with the mix of dry ingredients..
Mix everything until the batter is well-blended and divide the batter in two. In one bowl, combine 590g of batter with cocoa powder and milk and mix well. Place the batters into the prepared round cake pan by alternating spoonfuls of regular batter with the chocolate batter..
It is up to you how you marble it. Then bake it for 35-40 minutes or until a toothpick inserted in the center comes out clean. When it is done, let it cool on a cooling rack. You may sprinkle the top with powdered sugar or drizzle the cake with chocolate ganache. Enjoy!😉😋.
In large bowl beat together with hand mixer your ricotta, eggs, extracts and oil until combined. Add in your cake mix and beat until just incorporated. Slowly add in heavy cream mixing until blended in. Gently swirl in the cocoa batter creating a marble look. Pour the ricotta mixture over the batter and place the pan on middle rack in the oven.