Quinoa Pomegranate Salad. Bring the water to a boil, and after the water begins to boil, reduce the heat to low and cover the pan. This Ottolenghi-inspired quinoa salad with pomegranate, celery, parsley and spices is a healthy vegan dish that all will enjoy! Uncover the pot, drain off any excess water and fluff the quinoa with a fork.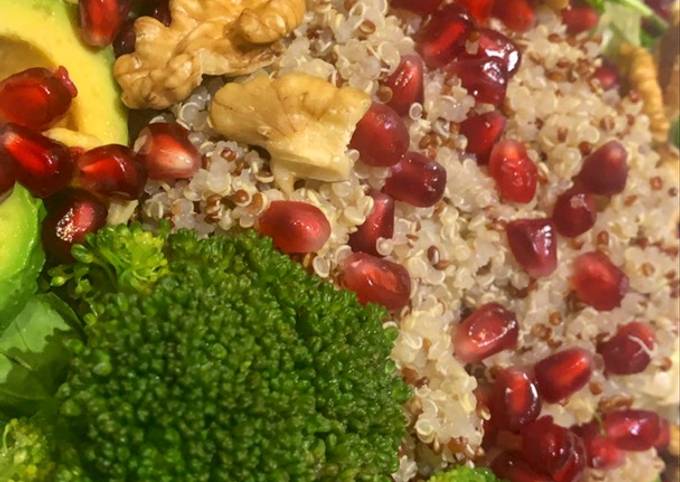 Whisk the dressing ingredients in a separate bowl until thoroughly blended, then pour the dressing over the salad and mix in. Drain well and spread over a platter or wide, shallow bowl to cool quickly and steam dry. Goes well with This healthy kale quinoa salad with pomegranate is easy to make, packed with flavor and full of good-for-you ingredients! You can cook Quinoa Pomegranate Salad using 13 ingredients and 5 steps. Here is how you achieve it.
Ingredients of Quinoa Pomegranate Salad
You need 1 Cup of Red and White Quinoa.
Prepare 2 Cup of Water.
Prepare of Argula (quantity to your preference).
You need of Lettuce (type to your preference).
Prepare of Pomegranate.
It's 1 Cup of Broccoli.
You need 1 of Avocado.
You need A few of Walnuts.
Prepare 1/4 cup of Balsamic Vinegar.
Prepare 1 Teaspoon of Honey.
You need 2 Tablespoons of Olive Oil.
It's of Salt and Pepper.
Prepare 1 of Garlic.
We've got kale, quinoa, walnuts, chickpeas and more! Bring to a boil over medium-high heat. Drain and rinse under cold water. Chop the onion, cucumber, parsley, and mint leaves.
Quinoa Pomegranate Salad instructions
Boil 1 cup quinoa with 2 cups water. Cover, reduce heat to low, and simmer until quinoa is tender, about 15 minutes..
Boil hot water – at boiling point add Broccoli for 2 minutes only.
Prepare your the ingredients as shown bellow..
Add each of the ingredients to you plate with each ingredient tk the quantity you prefer..
Sauce: beat one garlic – add salt and pepper – one spoon of honey – balsamic vinegar and olive oil.
Mix the chopped vegetables and quinoa together. Add the lemon juice, salt and pepper to taste, and olive oil. Add the water and salt bring to a boil. Remove from heat and fluff with fork. Add quinoa, water and salt to a medium saucepan.