Espresso Cake. To prepare your cake: Using a mixer (on low speed!!) add eggs to remaining frosting in mixing bowl. Add vanilla and beat until blended. In small bowl, combine flour, baking powder and salt.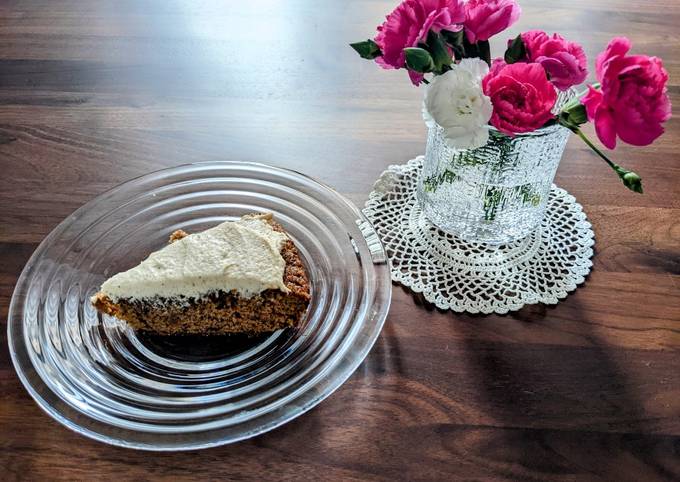 Sift the flour, baking powder, and salt together in a bowl. What you'll need Our cake starts like many others, with eggs, sugar, butter and flour. Although this is not a chocolate cake, it does contain cocoa powder, but its two espresso shots which steal the spotlight. You can cook Espresso Cake using 15 ingredients and 5 steps. Here is how you cook that.
Ingredients of Espresso Cake
Prepare of Cake.
You need 100 grams of / 8 large Dates.
You need 3/4 dl of Espresso.
You need 80 grams of nuts (e.g. walnuts/pecans).
You need 100 grams of soft butter.
You need 1.5 dl of Brown sugar.
It's 2 of eggs.
You need 1.5 dl of Flour.
Prepare 1 tea spoon of baking powder.
You need 2-3 teaspoon of Spices: cardamom, ginger, cinnamon.
It's of Frosting.
Prepare 25 grams of soft butter.
It's 3-4 teaspoons of powdered sugar.
It's 3 of table spoons of Greek yogurt.
Prepare 1-2 teaspoons of Cinnamon.
We're topping our cake with a buttercream espresso frosting, decadent, sweet and palate coating. Keep it chilled in the fridge. You can freeze the buttercream as well. Dissolve the instant coffee granules in the milk, and stir in the vanilla.
Espresso Cake step by step
Cut the dates into small pieces, and pour over the warm espresso. Let them sit for 10 minutes. Mix the espresso, dates and nuts in a blender. Create a "paste" type of a mixture..
Mix the sugar and eggs in one plate until fluffy. In a different one, mix all dry ingredients together. Add spices according to your taste, I had 3 teaspoons of each 🙂 Slowly combine the egg/sugar with dry ingredients, as well as the dates/nuts paste. Add the dough into a cake plate (grease the plate with butter/flour beforehand to make sure it doesn't stick)..
Bake in the over 180C / 350 F for 25 minutes. Let the cake cool down..
Prepare the frosting: mix the soft butter with powdered sugar and yogurt. Add cinnamon by your taste, I had 3 spoonful here..
Before serving, add frosting on the cake. Enjoy!.
Grease a medium loaf pan with non-stick spray and line the base and sides with baking paper. In a large bowl add the self-raising flour, and chopped pecans. In a medium saucepan add the butter and sugar. Chop chocolate and melt in a saucepan over medium-low heat. Set aside to cool to room temperature.