Cream Cheese Filled Sweet Pumpkin Cakes. Whisk flour, baking soda, cinnamon, cloves, salt, ginger, nutmeg, and allspice together in a large bowl. Mix the spice cake mix with the pumpkin puree, milk, oil, eggs, and pumpkin pie spice. Remove and let cool completely before frosting.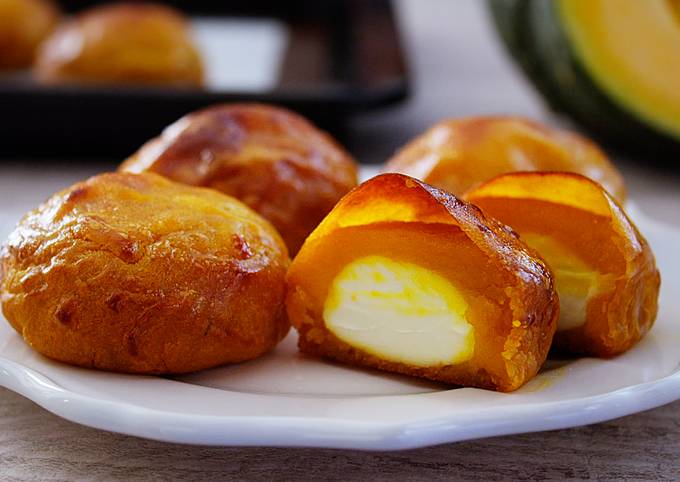 In a large mixing bowl add eggs, sugar, vegetable oil, pumpkin puree and beat until smooth. In another mixing bowl sift together the flour, baking powder, salt, baking soda, and cinnamon. This no-bake pumpkin pie is so easy to make it is ridiculous, and the flavor is out of this world. You can have Cream Cheese Filled Sweet Pumpkin Cakes using 11 ingredients and 8 steps. Here is how you achieve that.
Ingredients of Cream Cheese Filled Sweet Pumpkin Cakes
It's of (9.5-10.6 oz) squash, peeled and net weight.
It's of unsalted butter.
Prepare of honey.
Prepare of (1/4 us cup) granulated sugar.
It's of egg yolk.
Prepare of heavy cream.
Prepare of vanilla oil, optional.
It's of cream cheese, well-chilled (18g / 0.6 oz x 6 pieces).
You need of For Brushing.
You need of egg yolk.
It's of brandy, optional.
Just make it in advance so it has time to chill thoroughly. Add granulated sugar and brown sugar and beat until blended. Scrape down the sides and bottom of the bowl as necessary. Add cornstarch and mix until blended.
Cream Cheese Filled Sweet Pumpkin Cakes instructions
My You tube Recipe Channel→ Fumie's Recipe Please come to see!.
Let the cream cheese sit in a fridge until you use it. Cut squash into small and remove the skin. Weigh the used amount. Put in a heat-resistant container. Cover it roughly with plastic wrap, and microwave it at 600W for 5 mins to soften it. Mush it while hot..
Add butter, honey, and granulated sugar and mix well..
Strain and put in a small pot. Add egg yolk and heavy cream and mix until smooth. Add vanilla oil and mix..
Heat it on low to medium heat for about 7 mins stirring until heavy..
Take it out of the pot and spread it on a tray to cool down. Preheat an oven to 200 ℃ / 392 F..
Roll the cream cheese into balls of 18g / 0.6 oz each. Divide the pumpkin into 6 equals, use your hand to cover each cream cheese ball with squash paste. Place them on a baking sheet lined with parchment paper..
Brush each with a mixture of egg yolk and brandy. Bake it at 200 ℃ / 392 F for 20-25 mins until golden brown..
Add the eggs and beat until fully combined. In a small bowl beat the cream cheese and powdered sugar. In a large bowl mix the eggs, oil, pumpkin, and sugar. Then in another bowl mix the flour, pumpkin pie spice, salt, and baking soda. Slowly add the dry ingredients to the wet and mix until just combined.