Cold Quinoa Salad. The salad dressing ties all the flavors together. A quartet of super foods (kale, quinoa, avocado, and olive oil) make this a healthy meal! Place your desired amount of quinoa into a mesh strainer and rinse with cool water.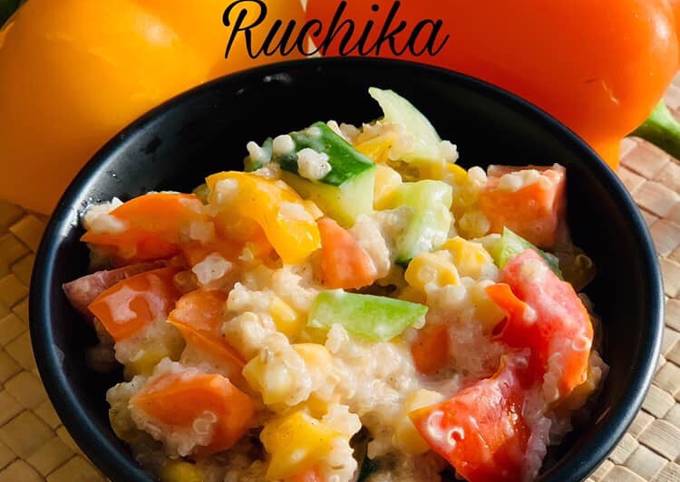 Add the quinoa, stir once, and return to a boil. Strain and rinse well with cold water, shaking the sieve well to remove all moisture. Kale and Quinoa Salad This vibrant salad from The Hungry Waitress is the kind that improves with time, as the black beans, kale, tomatoes and dried cranberries all meld together with the quinoa and lemony dressing. You can have Cold Quinoa Salad using 6 ingredients and 6 steps. Here is how you cook it.
Ingredients of Cold Quinoa Salad
Prepare 1/2 cup of quinoa.
You need 1/2 cup of bell peppers of your choice (I have taken orange, yellow and red).
You need 1/4 cup of boiled corn kernels.
It's 1/4 cup of chopped cucumber.
You need 2 tbsp of hung curd.
You need to taste of Salt and black pepper.
Mix the quinoa, red pepper, cucumber, black beans, scallions, salt and pepper together in a bowl. In another bowl whisk all the dressing ingredients. Pour the dressing over the quinoa salad and toss gently with a spatula or two forks. Eat immediately or refrigerate and enjoy your cold quinoa salad later.
Cold Quinoa Salad step by step
Cook quinoa in a pan just as u cook rice. Keep aside to cool.
Chop veggies of your choice- I have orange, yellow and green bell peppers, some corn kernels, chopped cucumber.
Take all the vegetables and cooked quinoa in a bowl and add some hung curd..
Add seasoning of salt and blk pepper as per your taste..
Mix well so that everyone gets coated with hung curd..
Refrigerate it and enjoy the cold salad.
Set aside or place in the fridge to cool. This cold Quinoa Vegetable Salad is a healthy, refreshing salad packed with fresh vegetables and quinoa. It's perfect for the summertime and you can easily use up all those extra vegetable in the refrigerator. Move the saucepan off of the heat and cover for five minutes. This extra time allows the quinoa to steam and "fluff up." Once the quinoa is mostly cool, add it to the serving bowl, and drizzle the dressing on top.