Taiwan Castella Cake Recipe. How to Make Castella Cake If you have all of your ingredients, it's time to get started on whipping up a delicious cake! This cake is baked with the Hot bath bake technique. Place your mold in the middle of the hot bath.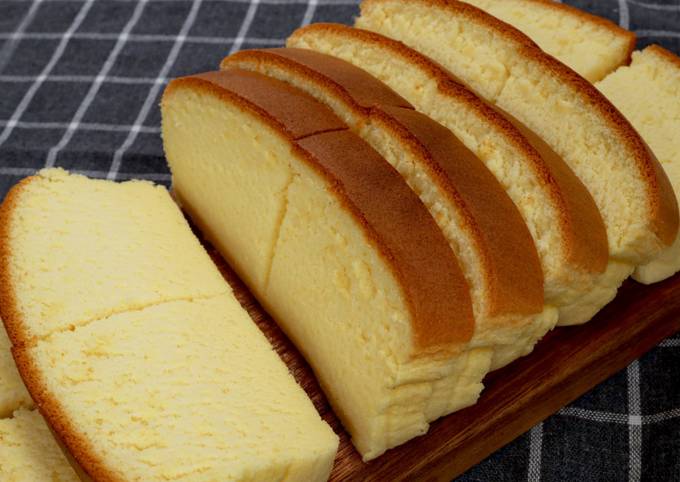 Now stir in egg yolks one at a time and vanilla last. Pour in the butter and milk mixture into the flour bowl from earlier and use a whisk to mix it all up. we whisk it until the batter is nice and smooth. It'll have a pretty thick consistency. You can cook Taiwan Castella Cake Recipe using 7 ingredients and 6 steps. Here is how you cook that.
Ingredients of Taiwan Castella Cake Recipe
Prepare 50 gr of Vegetable oil.
It's 60 gr of Milk.
Prepare 65 gr of Cake flour.
You need 4 of Egg yolks.
It's of Vanilla essence.
You need 4 of Egg white.
It's 65 gr of Sugar.
It can be runnier if the butter wasn't boiling. Sift the dry ingredients (flour and salt). One small bowl with yolk, a large bowl with the whites. In a bowl, add the butter and milk over.
Taiwan Castella Cake Recipe step by step
Preparation: ●Prepare hot water. ●Sift the flour in advance. ●Separate the egg yolks and egg whites. ●Preheat the oven 150°C. —————————————————————————– Warm up milk and vegetable oil using double boiler. Then add the flour and mix well. For more details, watch the instruction video here: https://youtu.be/Gi7wzsMeJiQ.
Add vanilla essence to the egg yolk and mix well. Then pour it into 1.
Make meringue: mix egg white then add sugar several times..
Add the meringue into the egg yolk batter. Carefully mix, don't destroy the meringue form..
Pour 4 into the cake mold. Fill the bake ware with hot water. Bake at 150 degrees for 60 minutes..
You can enjoy it while it hot or after it cool down!.
Separate the egg white and egg yolk into two different bowls. In a pot, add in milk and butter. Turn the heat to medium-low, and cook until the butter is fully melted. In a large bowl, add in cake flour, and slowly pour in the melted butter and milk mixture. Switch to a spatula to mix and fold the batter, scraping the base of the bowl to ensure it's thoroughly mixed properly.