Quinoa stuffed peppers. Put pepper upside down (tops cut off and cleaned out already) in the water and cover. They are now ready to stuff and don't need as much time in the oven – other than to heat up or cook whatever filling. Directions In a small saucepan, bring the broth, water and bay leaf to a boil.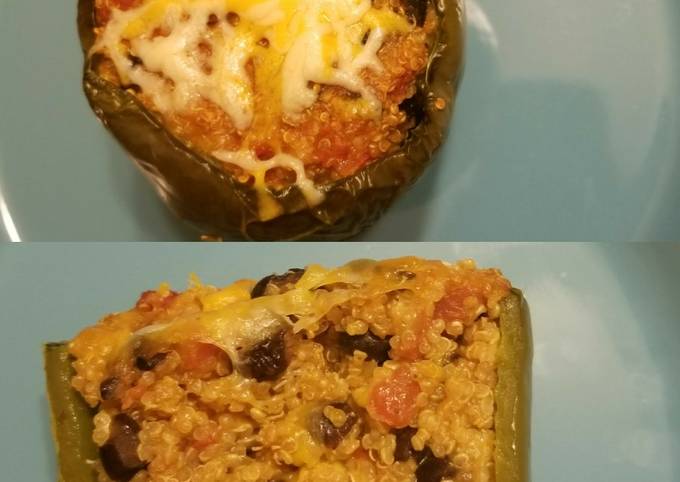 Heat the olive oil in a pan on medium high heat. Stir the pepper, chili powder, garlic powder, onion powder, oregano, paprika, cumin, and crushed red pepper flakes to the onions in the pan. Cut off stem end of each bell pepper. You can cook Quinoa stuffed peppers using 9 ingredients and 5 steps. Here is how you achieve it.
Ingredients of Quinoa stuffed peppers
You need 1/2 cup of dry quinoa.
It's 1 cup of water.
Prepare 1 can of rotel.
Prepare 1/2 cup of corn.
It's 1 can of black beans, rinsed.
Prepare 2 cup of bag of shredded cheese.
You need 4 of bell peppers.
It's 4 tbs of taco seasoning or 1 packet.
Prepare of Optional: cilantro, queso fresco crumbled cheese.
Remove and discard seeds and membranes from peppers. Brush halved peppers with a neutral, high heat oil, such as avocado oil or refined coconut oil. Add the quinoa with a pinch of salt, cover. Bring the quinoa and stock to a boil.
Quinoa stuffed peppers step by step
Cut tops off peppers, remove seeds. In a large pot bring water to a boil, cook peppers 10 minutes or until tender. Remove peppers from water and set aside..
Boil 1 cup water, stir in 1/2 cup quinoa, reduce heat to a simmer, cover and cook 10-15 minutes. Add 4 tbs or 1 packet taco seasoning, stir. Transfer to bowl.
Mix quinoa, black beans, corn, rotel, and cheese, then stuff mixture into peppers.
Bake on 350° for 20 minutes. Top with cheese cook 1 more minute or until cheese is melted..
If using a convection oven bake on 300° for 15 minutes. Top with cheese, cook until cheese is melted..
In a large bowl, combine quinoa, green chiles, corn, beans, tomatoes, cheeses, cilantro, cumin, garlic, onion and chili powder, salt and pepper, to taste. Spoon the filling into each bell pepper cavity. Prepare the filling: Place rinsed quinoa in a medium saucepan. Add the broth and bring to a rolling boil. Heat a medium saucepan over medium heat.